Christingle Celebration with Nativity Play
Where:
St Barnabas Church, Great Tey
PLEASE NOTE THIS EVENT HAS HAD TO BE POSTPONED DUE TO COVID.
WE ARE HOPING TO RE-SCHEDULE IN EPIPHANY
This Christingle celebration marks the arrival of the Christ child bringing light into the world. It reminds us that we are part of a world community and we all share the planet's bounty.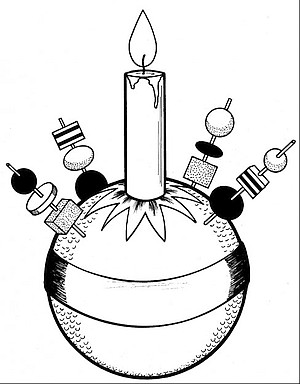 We celebrate with:
An orange, representing the world
A candle pushed into the centre of the orange, then lit, representing Jesus Christ as Light of the World
A red ribbon wrapped around the orange or a paper frill around the candle, representing the blood of Christ
Dried fruits and/or sweets skewered on cocktail sticks pushed into the orange, represents the fruits of the earth
Children of all ages with parents and grandparents are warmly invited to attend.
There will be a retiring collection for UNICEF, a charity which works for disadvantaged children around the world.